Upload a Trams Database

To upload a database to send to Trams and ClientBase Products and Services, do the following:
1) A Trams Support Representative has asked you to upload your database. Make a note of the Service Incident Number they have given you.
2) Make a backup of the database making sure to check Encrypt Backup File and enter a password for the backup. (Make note of this password.) Because of PCI Compliance regulations, any database received that is NOT encrypted will automatically be deleted out of our system without opening. (Make sure to note the location of the backup so you can browse to it easily for uploading.)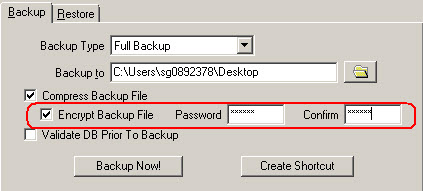 *Note, in versions 2.06 and lower of ibbackup, the backup password is entered in a prompt window after hitting backup now.
3) Click here to upload the database and fill in the following information: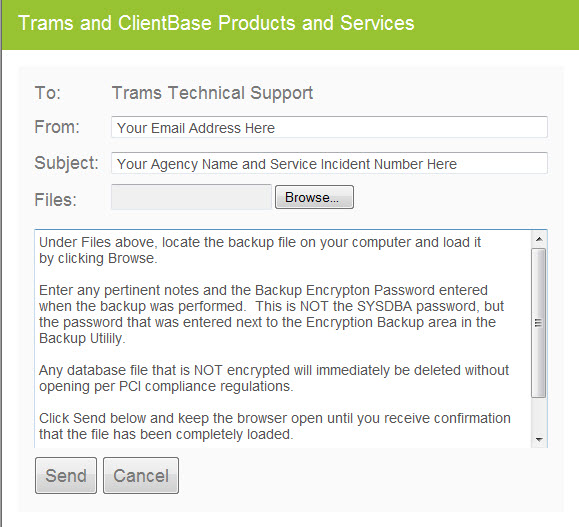 Enter your email address in From.
In the Subject, enter your Agency Name and the SI number given to you by a Trams Representative.
In Files, browse for the backup file saved on your computer and load.
In the remarks area, enter any pertinent notes and the Backup Encyption Password that was entered when the backup was performed. This is NOT the SYSDBA password, but the password entered next to the Encryption Backup area in the Backup Utility. Any database file that is not encrypted will immediately be deleted without opening per PCI compliance regulations.
Click Send.
Note: Keep the browser open until you get confirmation that the file has been completed uploaded.
Confirmation emails go to Trams Technical Support at Trams.TechDesk@sabre.com.